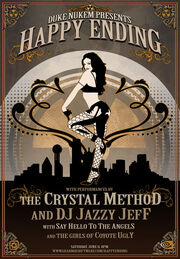 One of the biggest jokes in all of gaming is about to be put to rest, and developer
Gearbox Software
wants you in Dallas, Texas to help them celebrate the end of
Duke Nukem Forever
's storied, fourteen-year-long development cycle.
If you can prove you are over 21 years of age and live in the United States, mark June 11, 2011 on your calendars. Starting at 8 pm., Gearbox will be hosting "Duke Nukem Presents: Happy Ending", a Duke-themed party with entertainment from The Crystal Method and DJ Jazzy Jeff.
You can go here to request an invitation. However, it's likely that they will be out of bubblegum by the time you arrive, so be ready to kick some ass instead.