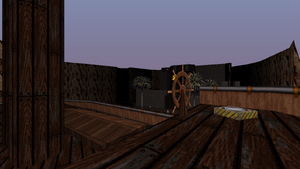 Piracy is a Dukematch map playable in Duke Nukem 64. Comprised of a pirate ship and fortress, Piracy is a modified section of the level Babe Land from the Atomic Edition.
Comparison to Babe Land
Compared to Babe Land in the Atomic Edition, Piracy only consists of the pirate ship, the pirate fortress across from the ship, and the slave trading outpost behind the fortress. The exit button has been moved from inside the pirate fortress to a balcony above it. There are no animatronic pirate babes.
Piracy also contains the beginning of the secret ventilation shaft above the pirate ship that appeared in Babe Land. The ventilation shaft still contains the security camera from Babe Land, even though security cameras serve no purpose on this map.
See the Levels (DN64) page for a complete list of Duke Nukem 64 levels and their differences from the PC version, including screenshots.
Community content is available under
CC-BY-SA
unless otherwise noted.