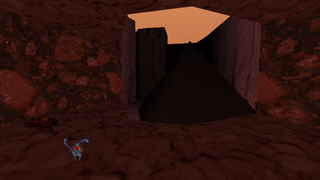 Noctis Labyrinthus is a secret multiplayer-only map in Duke Nukem 64.
The level gets its name from the Noctis Labyrinthus formation on Mars, which was the inspiration for the level.
The only way to reach this level is by activating all the switches hidden throughout Shaft, which reveals a secret exit to Noctis Labyrinthus.
The level is based in a canyon on the outdoor surface of Mars. Many of the surface textures are tinted red. The canyon itself is somewhat narrow, but there are many alcoves in the canyon walls. A few pitfalls contain lava at the bottom. There is also a strange pyramid structure in the center of part of the canyon.
Community content is available under
CC-BY-SA
unless otherwise noted.