Metropolitan Mayhem is a 15 level fan add-on for Duke Nukem 3D designed to imitate the popular original city levels from L.A. Meltdown and Shrapnel City. In this sense, it can be seen as the Duke equivalent to the well received Doom the Way id Did series of mods for Doom. Additionally, maps were intended to be designed within 24 hours, so vary from small to medium. It was released on August 15, 2012 and was created by MetHunter, MRCK, Mikko Sandt and Merlijn van Oostrum.
Duke's Day
Croque Monsieur
Office Onslaught
City Lights
Sex City
LAPD
Submerged Zone
Meatball Sub Makin
Derailing
Train in Veins
Dukenpark (secret level)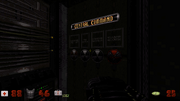 The mod has multiple possible ending maps meant to reflect the different boss fights from the original game.
High-Altitude Face-Off
The Bitch
Stadium Despair
Yelldown Hellride
Community content is available under
CC-BY-SA
unless otherwise noted.