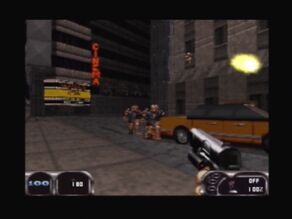 There is no episode selection in the Nintendo 64 version of Duke Nukem 64. Instead, the player must play through each level to progress. However, the episodes were reintroduced in the PC source port.
Overview
Edit
See Levels (DN64) for a complete list of levels and their differences from the PC version.
Red Light District has been renamed Gun Crazy and has been heavily censored to remove all sexual references.
There is a hidden exit in Gun Crazy that leads to the level Duke Burger from the Atomic Edition.
Launch Facility now appears as a regular level and follows after Toxic Dump.
There is now a separate level for the Battlelord encounter at the end of The Abyss.
Community content is available under
CC-BY-SA
unless otherwise noted.