Inferno is a multiplayer level in Duke Nukem Forever available with the Hail to the Icons Parody Pack expansion pack, which is a parody/tribute to the game Doom.  
Inferno is available in all multiplayer game modes.
Description
This level is based in a lava-filled dungeon in hell. Many of the surface textures are pixelated in the spirit of old-school first-person shooters.
Easter eggs
There is an image of what appears to be a Cacodemon on one of the walls, but instead of horns, it has multiple penises coming out of it.
There is a vending machine that sells key cards, but it is out of order.
There are signs warning against fishing and diving in the lava.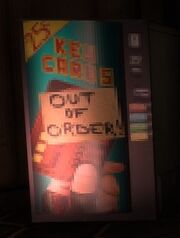 Trivia
Inferno's layout is based on the first level of Doom II, but it borrows many aesthetic elements from Doom 3.