Inferno is a multiplayer level in Duke Nukem Forever available with the Hail to the Icons Parody Pack expansion pack, which is a parody/tribute to the game Doom.  
Trivia/Easter eggs
Edit
The levels main layout is mapped after the first level of Doom 2.
The levels overall look is modeled after the depiction of hell in Doom 3.
There is an image of what appears to be a Cacodemon on one of the walls, yet instead of horns, it has multiple penises coming out of it.
There is a vending machine that sells key-cards, yet sadly it is out of order.
Many of the textures in the level are pixelated to give it that authentic old school feel.
Humorously, there are signs warming against fishing and diving in the surrounding lava fields.
The name of the level might be based on the title of the 3rd episode from doom.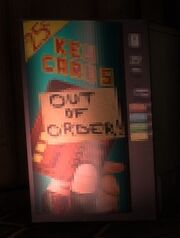 Community content is available under
CC-BY-SA
unless otherwise noted.