High Times is the first level of Alien World Order and takes place in Amsterdam. The map features a street with a river and one of the city's famous "coffee shops," a euphemism for cannabis dispensaries.
Across from the blue keycard, there is a white wall that has a hidden lift. Take the lift up and step onto the roof.
In the Little Green Man Coffee Shop, get behind the counter and stand in front of the far right cash register. Hit the use key and a bookcase under the pool tables sign will slide up. Run over and enter the alcove behind the bookcase.
Still in the coffee shop, go up the stairs at the entrance of "Area 420." Instead of turning left and entering the room with the pool tables and foosball table, look up and shoot the grate in the wall. Go through the ductwork and exit onto the roof.
After using the hookah and heading outside, the blue water will turn to green slime when you circle the center pillar. Go under the slime water and enter the center sector with the light.
Walkthrough
Edit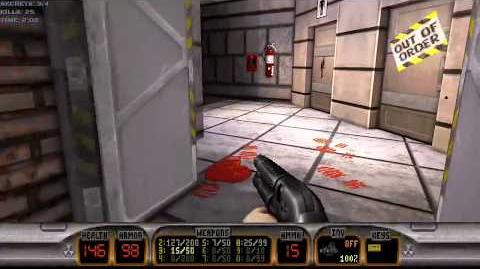 The final area of the level features the "720-degree circle" trick first seen in Lunatic Fringe, in this case implying that Duke became high in the coffee shop.
Community content is available under
CC-BY-SA
unless otherwise noted.