Explosives
Edit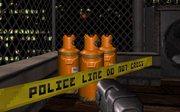 These appear as orange canisters, and when shot they explode.
In addition to stand-alone canisters, such an explosion can cause a chain reaction inside the environment which causes more than the initial explosion.
There may also be items spontaneously exploding, or detonating when triggered.
Crushers
Edit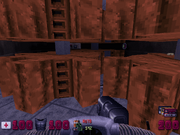 Crushers are either ceilings or walls (and sometimes doors too,) that move in an attempt to crush anything inside.
Damaging floor
Edit
A damaging floor is a surface that inflicts damage when duke stands on it. In all cases, damage is prevented by use of Protective Boots.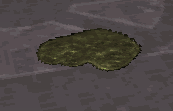 Slime inflicts damage, and may either appear as a large pool similar to water, or a small pool in the open.
Even though slime is dangerous when you stand on it, it is safe to swim underwater.

Lava is identified by a bright red liquid. It is slightly more damaging than slime. There is also a purple, highly damaging variation in The Queen which can even cause damage when the player is not touching it.

Outer space
Edit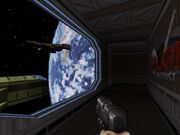 The player will die if he walks in an area that has contact with the outer space. The only way this is possible is by using the DNCLIP cheat code.
Community content is available under
CC-BY-SA
unless otherwise noted.