Golden Carnage is the sixth level of Alien World Order and takes place in San Francisco.
From the start of the level, turn around to face the structure behind you. There is a crack in the wall to destroy, and the first secret is inside this room.
Get inside the USS Frisco. Across from the dipswitch, find the hidden door beside the light near the floor and enter.
After flipping the switch inside the USS Frisco, go up the ramp you created onto the bridge. Head toward the starting area, and jump off the vehicle to reach the raised support section for the bridge tower. Head to the East side (closest to the submarines) of the bridge tower, and hit the use key against the red tower to access a secret room.
At the blue key door, turn left and hit the use key to open up a room with a Portable Medkit.
There's a cracked wall behind the vehicle near the Fort Point sign. Destroy it and jump inside.
Walkthrough
Edit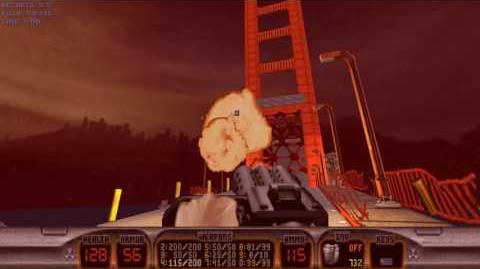 Community content is available under
CC-BY-SA
unless otherwise noted.