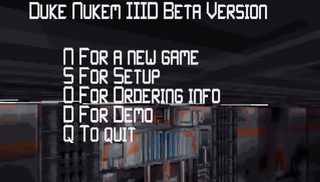 Duke Nukem IIID is a prototype of Duke Nukem 3D that was created sometime between the April 1994 Build Demo and the December 1994 prototype, known officially as LameDuke. Although the name "Duke Nukem IIID" appeared at the top of the in-game menu, fans affectionately nicknamed it LamerDuke because it preceded LameDuke.
In November 2014, 3D Realms released a video titled, "Duke Nukem 3D 1994 Prototype," which featured gameplay footage from the prototype.
Richard "TerminX" Gobeille, a 3D Realms employee who signed a non-disclosure agreement and was given the complete archive of Duke Nukem 3D development files, stated in a forum post that Duke Nukem IIID is the earliest build of Duke Nukem 3D.
Video