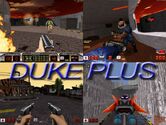 Dukeplus is a mod designed for Eduke32, was made by Dan Gaskill, and was released in 2008. It is designed to enhance the game in a number of ways.
Features:
Enemy customization
Translucent Water
Ladders
Grabbable and pushable objects
Optional weapon replacements and alternate fire modes
Player ally AI
Sector based dynamic lighting system
Gore and weapon damage effects
In-game options menu
Links:
Community content is available under
CC-BY-SA
unless otherwise noted.