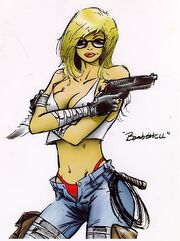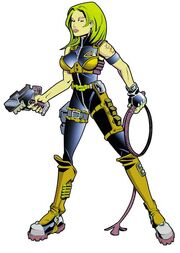 Bombshell was originally the intended sidekick of Duke Nukem in Duke Nukem Forever. The only in-game shots of her appear in the 1998 E3 trailer, where she can be seen with Duke in the mine caves of Nevada hitting switches and avoiding traps, dodging fire from a flying saucer, boarding a drop shuttle, and finally facing Duke head-on. Ultimately she was cut from later trailers and from the final retail product altogether, being replaced by Dylan as Duke's sidekick.

She was not part of the intellectual properties bought by Gearbox Software, and is still held by 3D Realms. She was redesigned in every aspect except for the nickname and was given two games of her own: Bombshell (2016) and Ion Fury (2019).
However, she is the NPC and playable character in
Duke Nukem: Alien Armageddon
mod.
External links
Edit
Community content is available under
CC-BY-SA
unless otherwise noted.