Bloody Hell is the third level of Alien World Order and takes place in London. It features an Elizabethan-style theatre house and the Palace of Westminster.
After opening the door unlocked by using the red keycard, head left downstairs. At the base of the stairs, head straight and press the use key against the wall. A secret door will open, and you can walk inside.
Before heading up the red-carpeted stairs to the section with the blue carpet, navigate to the dead end through the bookcases. Press the use key against the wall across from the bookcase to open a secret door that leads to a small room with armor.
Once completing the previous secret, head forward and hit the use key again to open up the second door to reveal another secret area with an atomic health pickup inside.
From the blue carpeted section, find and enter the circular room with bookcases covering the walls. Look above the bookcases to find a small shootable dipswitch near the ceiling. Flip the switch and a bookcase will drop, revealing a secret room.
In the bathroom, destroy the wall and drop down into the water. Rather than swimming forward, resurface and walk onto the floor in the alcove that has RPG ammo.
Walkthrough
Edit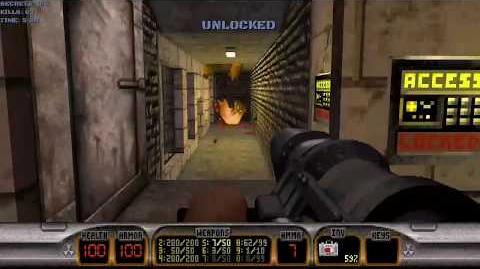 The Blue Access Card can be skipped entirely for completing the level.
This level features the first appearance of the Cycloid Sentry in Duke Nukem 3D.
This level also features the first appearance of the Cycloid Emperor since the level Stadium.
The green police box teleporter is a reference to the TARDIS from the BBC's British TV series Doctor Who.
Community content is available under
CC-BY-SA
unless otherwise noted.