For the Duke Nukem 3D enemy, see Assault Captain (DN3D).
The Assault Captain is an enemy in Duke Nukem Forever.
Like the original it has red armour, can teleport, and has a jetpack like their Assault Trooper brethren. However this time around the assault captain has armor plating on his legs, shoulders and arms as well as sporting a helmet. The armor plating and the helmet enables him to take a good amount of punishment. In addition instead of carrying the AT Laser as wielded by their Assault Trooper brethren, they carry the more powerful AT Captain Laser which is faster and stronger than the AT version, and has the ability of fully automatic fire. Due to the Assault Captains ability to teleport around they can quickly capture women and almost immediately teleport away before Duke can react.
They are a lot more effecient and dangerous than their standard kin and are noticably more dangerous than the original. Due to their armour, superior firepower and teleportation they are a lot harder to kill than Assault Troopers. Assault Captains can teleport around very quickly and will often try to teleport behind the player. They can teleport that quickly that they can avoid incoming fire as well as their jetpack which further aids them in this. The player needs to stay alert especially if they're up against groups of assault captains as they can easily catch them off guard and the Assault Captains weapon is quite powerful .When the assault captain takes enough damage parts of their armor will fall off and once that happens the player can then finish them off. Another thing that should be noted is unlike it's counterpart from Duke Nukem 3D it cannot play dead and thus has no chance of getting up again; once gunned down it will not get up again; the same applies to their underlings.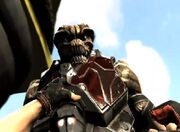 Community content is available under
CC-BY-SA
unless otherwise noted.